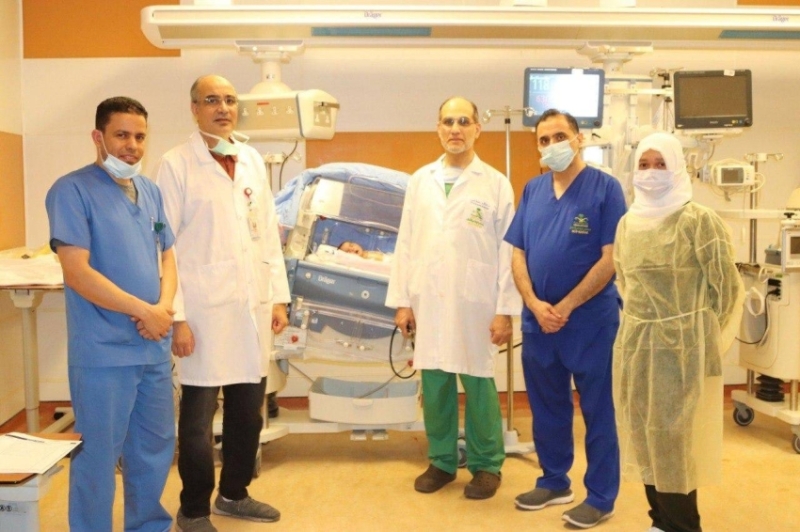 A medical team at the Maternity and Children Hospital, a member of the Health Cluster in Makkah, was able to save a baby born with a congenital heart defect.
Dr. Khaled Attas, head of the Umm Al-Qura Cardiac Department, explained that the infant was born in the hospital and was immediately transferred to the neonatal intensive care unit, as he was suffering from cyanosis and difficulty breathing, and his condition was diagnosed by the cardiologists after performing ultrasound waves on the heart, and it became clear that the infant suffers from a congenital malformation. In the heart, it is a tetralogy of Fallot with pulmonary atresia (pulmonary embolism) that prevents blood from reaching the lungs. In cases of pulmonary atresia, the pulmonary valve is not fully developed and a complete pulmonary embolism may occur, as in this case, it prevents blood from reaching the lungs, and some blood may flow from Through a natural opening called the ductus arteriosus between the aorta and the pulmonary artery, this opening closes immediately after birth.
Dr. 445 Khaled Attas added that first intervention was made by giving the infant medications to keep this channel open, and the infant was transferred to a cardiac catheterization, which showed that the ductus arteriosus is very small and on the verge of complete closure, which threatens the life of the infant.
Adil Ragheb, consultant pediatric heart surgeon, explained that the medical team supervising the infant's condition decided to urgently intervene in the infant to make a connection (shunt) using a small artificial tube between one of the major arteries branching from the aorta and the pulmonary artery so that blood can flow through it to the lungs as an initial step to save infant's life.
It was useful to Dr. Adel Ragheb that the surgery was performed successfully, praise be to God, and the infant was safely discharged from the hospital, where he will then undergo close follow-up to prepare him for the complete repair at the age of four to six months.
On the other hand, the Executive Director of the hospital, Dr. Hilal Al-Malki, explained that the Umm Al-Qura Heart Center in the hospital is the only and unique in cardiac catheterization operations for children in the western region, and it is equipped with the latest advanced equipment, which, thanks to God, has contributed to the restoration of life for more than one patient, as the center is distinguished by the presence of a specialized medical team They are highly skilled in this specialty, in addition to their qualified expertise to perform major operations in the region, and this is due to the unlimited support of our leadership in supporting the hospital with modern medical devices that help the doctor in speedy diagnosis and initiation of treatment methods.
.