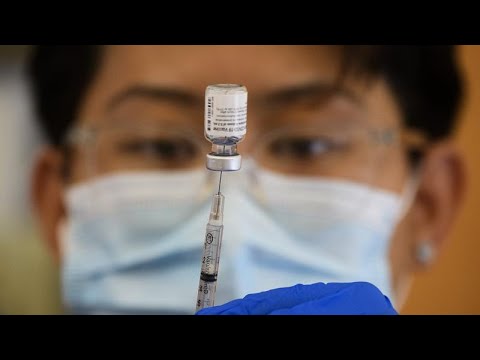 The United States on Wednesday authorized the administration of a third dose of the Pfizer vaccine against COVID-19 to people 65 and older, those at risk of developing severe symptoms of the disease, and those who work in jobs that make them more vulnerable to infection.
This decision means that a large part of the population, numbering tens of millions of Americans, is entitled to receive a third dose of the vaccine six months after receiving the second. "Today's action demonstrates that the science and data currently available continue to guide FDA decision-making about COVID-19 vaccines during this pandemic," Acting Food and Drug Administration President Janet Woodcock said.
The decision was expected and came after a meeting of a committee of independent experts called by the regulator last week, during which the committee voted in favor of that recommendation. However, the committee rejected an initial White House plan to fully approve booster doses of the Pfizer vaccine for everyone over 16 years old, in what appeared to be a rare rebuke to the administration of President Joe Biden. The group of experts, which included specialists in vaccination, infectious diseases and epidemiologists, concluded that the balance of benefits and risks differs among young people, especially males who are more susceptible to myocarditis.
Discussion about more boosters
The topic of Pfizer boosters is currently being discussed by an independent panel of experts at the request of the Centers for Disease Control and Prevention (CDC), which could recommend more details about who receives the vaccine. For example, if obesity were considered to put a person at "a high risk of developing severe symptoms of Covid," this definition would include more than 42 percent of the US population over the age of 20. The CDC may also have to identify workplaces and environments that may lead to "repeated institutional or occupational exposure to SARS-CoV-2."
For its part, the Food and Drug Agency said that this category includes "health workers, teachers, school employees, workers in supermarkets, homeless shelters, prisons, and others."
The emergency use authorized by the administration applies to those aged 18 years and over, and groups most at risk of developing severe symptoms of the disease and repeated exposure to the virus. Recipients of Moderna and Johnson & Johnson, the other two approved US vaccines, will wait for news about them when they, too, qualify for an additional dose.
Studies have shown that two doses of Pfizer or Moderna, or one dose of Johnson & Johnson, continue to provide high protection from severe symptoms of the disease, but that protection is slightly diminished for older adults. The World Health Organization has called for rich countries to stop providing booster vaccines, while many countries, especially in Africa, have barely started vaccination campaigns on their soil. However, the United States says it is possible to help middle and low-income countries, while protecting their populations most vulnerable to infection with the virus.
And on Wednesday, Biden announced that the United States would request the purchase of an additional 500 million doses of Pfizer to countries around the world, bringing its total contributions to 1.1 billion. Speaking to CNN Sunday, White House expert Anthony Fauci stressed the importance of further research to decide whether a booster dose is justified in the general public. "As we said at the beginning, we would like to plan that all those who received their first doses of Pfizer can be vaccinated," Fauci said. "The issue has always depended on evaluating all the data from the United States and Israel and any data we can get from the FDA advisory panel."
Fauci explained that the Food and Drug Administration committee made a decision opposing giving a third dose to anyone over the age of 16, "in the appropriate consultative process and came out with a recommendation."