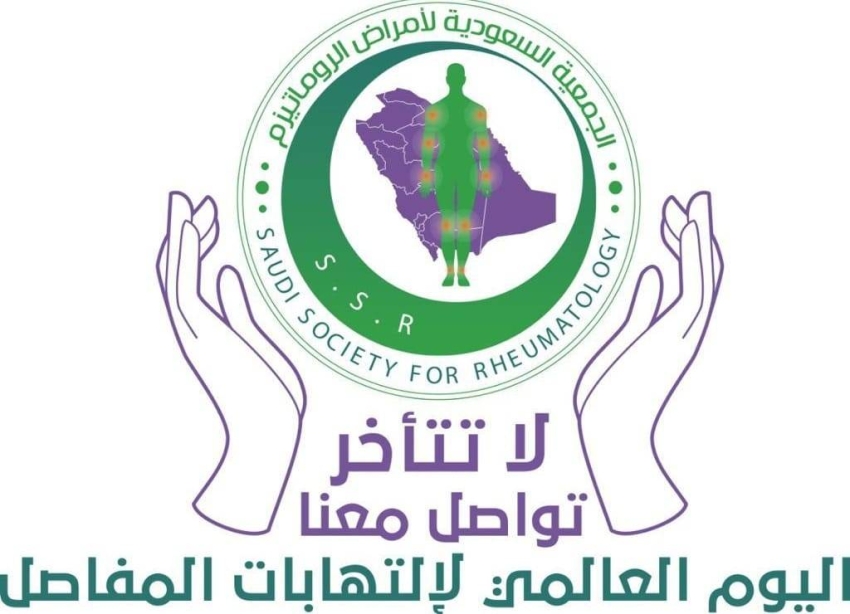 International Arthritis Day falls on October 12 of each year, on this day shedding light on this health problem, and educating arthritis patients about the need to take the necessary measures to reduce its negative complications that may cause permanent disability.
Dr. Hanan Muhammad Al-Rayes, Chairman of the Board of Directors of the Saudi Rheumatology Association, explained that the Saudi Rheumatology Association initiated the launch of an awareness-raising event entitled "Don't Be Late.. Contact Us", which aims to raise awareness of the importance of early diagnosis of immune rheumatic diseases, especially rheumatoid arthritis, coinciding with today. The International Center for Arthritis, and in solidarity with patients with arthritis in various regions of the Kingdom, the campaign will include most regions of the Kingdom, such as Riyadh, Khobar, Jeddah, Makkah, Madinah, Al-Qassim, Abha and Al-Jawf.
Al Rayes also mentioned that the event aims to raise awareness among all segments of society and educate them about arthritis, and also because of its importance at a time when chronic arthritis has become a threat to the health of the individual and society and a cause of disability if diagnosis and treatment is delayed.
She pointed out that the events will continue throughout the month of October, and include educational seminars on the Zoom platform and medical consultations on the Society's Instagram, in addition to attendance activities, including an awareness corner on rheumatism and rheumatoid disease, and providing free consultations with specialists and consultants of rheumatic diseases, physiotherapists and nutritionists.
An awareness film about arthritis will also be shown. In some areas, the event will be accompanied by sports activities such as walking and hiking in Al Yamamah Park in the Diplomatic Quarter in Riyadh, and a marathon and football for the women's football team (Union of Eagles) on the new Khobar Corniche and in Madinah accompanied by a walking event in King Fahd Park.
She also added that the virtual lectures on the Zoom platform (consult your doctor) during the month of October include a selection of rheumatism consultants, and the educational symposium discusses an introduction to rheumatic diseases, pediatric rheumatism, the Covid vaccine for rheumatoid patients, rheumatoid, and its treatment and physical therapy for rheumatoid patients.
And also on the association's Instagram (ask your doctor) and it includes the following topics: rheumatoid arthritis and its treatment, infantile arthritis and lupus in children, and fibromyalgia and Covid 19 in rheumatic patients.