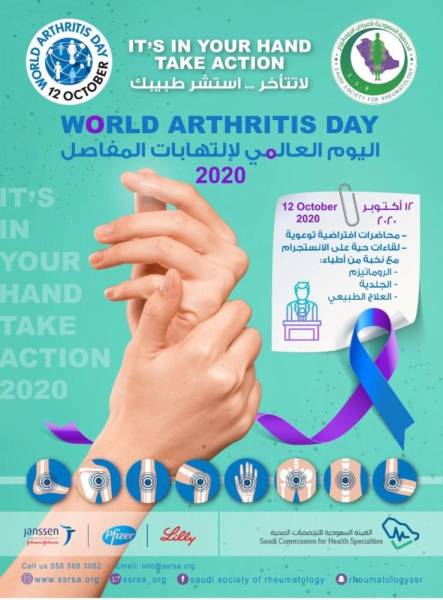 The Saudi Rheumatology Society celebrates the "World Arthritis Day" which falls on October 12 every year in all regions of the Kingdom, by holding an electronic event through social media and through the Zoom platform.
Chronic arthritis is one of the main causes of pain and disability at the national level, while the International Day presents the slogan: "Don't be late … Consult your doctor" to everyone who suffers from arthritis, and the Saudi Rheumatology Society contributes in the month of October this year to spread awareness and medical culture for members of the community And medical education on rheumatic diseases.
In this regard, the President of the Saudi Rheumatology Society, Dr. Hanan Al-Rayyes, called on health communities everywhere to give priority to facilitating access to rheumatologists for early treatment of arthritis, and to help increase awareness of how the condition affects those with it, and to help patients with disabilities to facilitate their movement and coexistence in the society.
Al-Rayyes emphasized the importance of early diagnosis in reducing disability resulting from joint infections and controlling symptoms.
One of the most important reasons for holding a World Day of Diseases is to enable people with rheumatic diseases and skeletal joints from all over the world to join each other to make their voices heard on this day and exchange experiences.
Through the campaign, the association seeks to introduce rheumatic diseases and the extent of their impact on members of the community. The campaign aims to emphasize the importance of early treatment and continuation of treatment to reduce the occurrence of complications and disability that often result from delayed diagnosis and treatment of immune rheumatic diseases.
Dr. Hanan Al Rayes will launch the first issue of "Bridges Journal" through social media and through the Zoom platform as the first integrated magazine in the Arabic language at the level of the Arab world, specialized in health education and awareness of rheumatic diseases and early treatment. The magazine is concerned with all diseases related to the locomotor system and connective tissues for adults and children. Especially the chronic inflammatory immune diseases, such as patients with rheumatoid and its complications, SLE, psoriasis and other autoimmune diseases and how to deal with drugs and diseases during the Covid 19 pandemic.
Jusoor magazine has prepared an integrated medical team of consultant doctors specializing in rheumatism, dermatology, ophthalmology and others involved in treating various rheumatic symptoms.
Al-Rayyes also noted the needs of society for adequate awareness and commitment to preventive measures in light of achieving future aspirations in line with Vision 2030 and the efforts of the Ministry of Health.