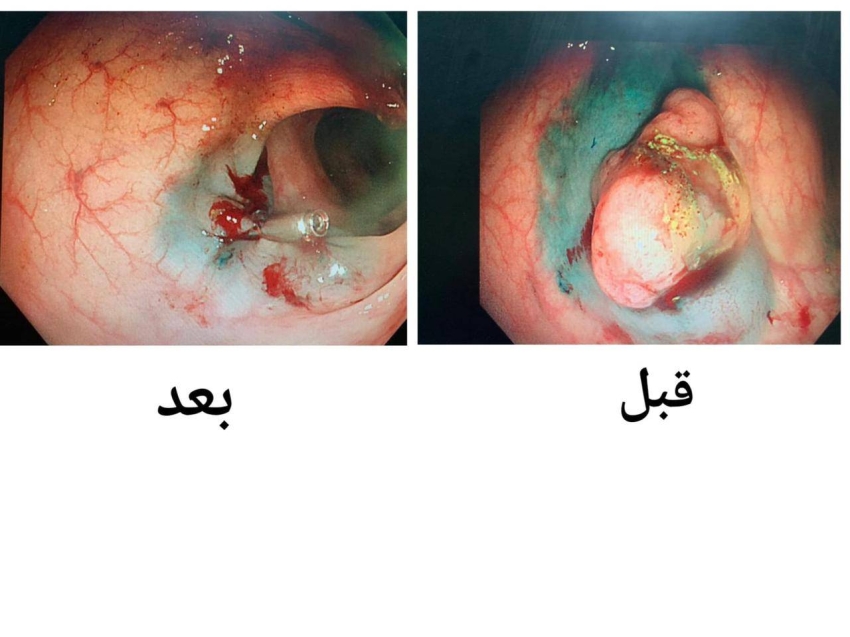 Thanks to God, a medical team specialized in endoscopy and digestive system at King Abdullah Medical Complex in Jeddah managed to completely remove a 4-cm tumor of the second degree from the intestines of a 45-year-old patient, who had been suffering from anal bleeding with chronic constipation for two months.
In the details, the patient was received in the emergency department of the medical complex and he suffers from anal bleeding with chronic constipation for two months. The patient was admitted to the hospitalization wards under the Gastroenterology Department, and after studying the case and setting the treatment plan, it was decided to completely remove the tumor by endoscopy and without surgical intervention as usual.
To complete, Dr. Fatima Salah Salem, Head of the Digestive System and Endoscopy Unit and Consultant of Gastroenterology and Endoscopy at the Medical Complex, explained that due to the difficulty of removing the tumor, a modern technology was used to help in the process of removing colon tumors by injecting PuaStat into the intestinal wall in order to completely remove the tumor with an endoscope, And she added, the resection took 30 minutes, which was successful – thankfully – without complications and the results of the laboratory samples, which showed that the tumor was completely removed, so that the patient's natural exit permission was written to leave the medical complex in good health and follow up on his health condition. According to his scheduled dates.