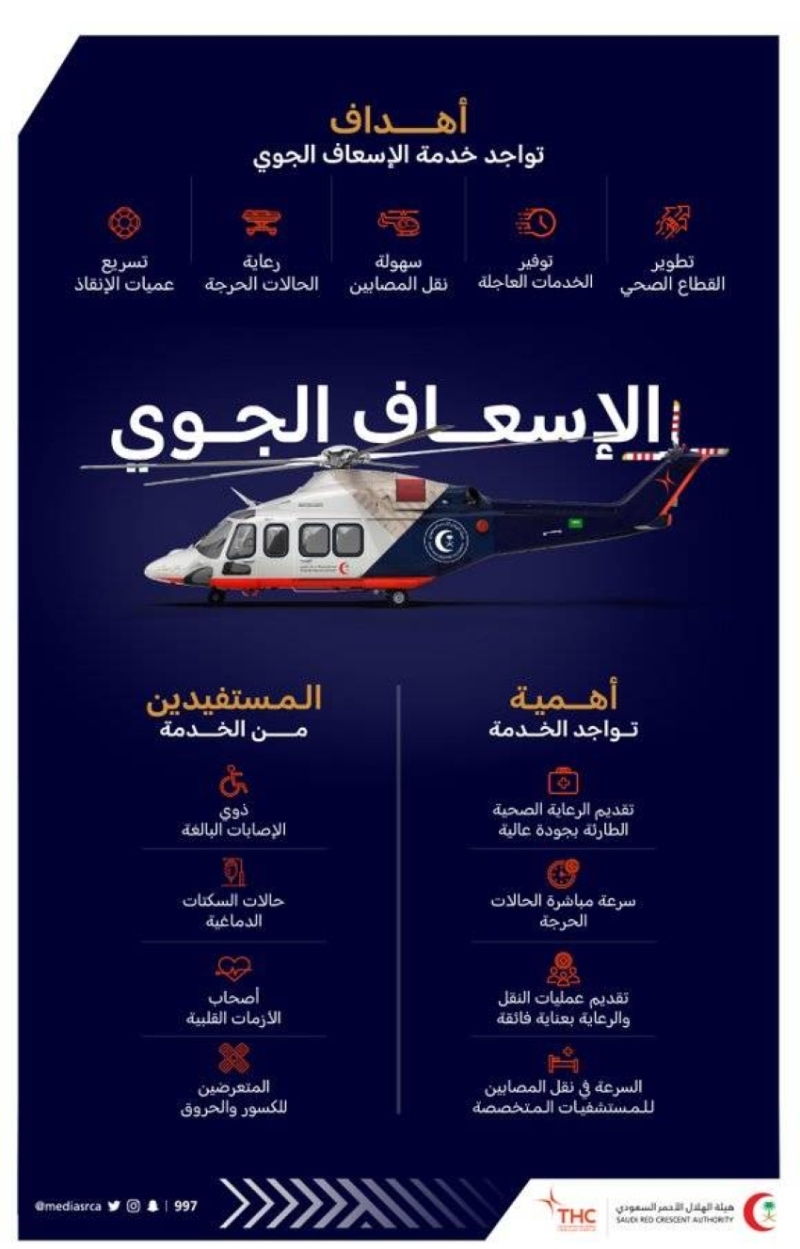 Since the Saudi Red Crescent Authority re-launched it in February 2022 and until the end of September, the air ambulance project succeeded in achieving more than 703 flight hours in response to 342 communications received from the authority's central operations room or through the referral center at the Ministry of Health, and the total number of transferred cases Until the end of September, 282 cases were transferred to hospitals and specialized medical facilities.
The official spokesman for the Saudi Red Crescent Authority, Abdulaziz Al-Suwaina, explained that the air ambulance project, which was re-launched by the authority, provides the service in a more comprehensive manner, as the authority is responsible for transferring emergency cases between medical facilities in coordination with the referral center at the Ministry of Health, in addition to handling emergency emergency cases on highways and crowded places, which It may be an obstacle to the quick arrival of the ambulance to take care of the case.
He added that the planes operating within the air ambulance project are of two types, the first is winged planes and numbered (2), and during the past seven months, they achieved more than 483 flight hours, during which 216 cases were transferred between males and females, including 78 cases of infants and children. Different times of the day, day and night.
The second type of aircraft operating within the project is the (3) helicopters. During the same period, it achieved more than 220 flight hours, during which it transported 126 cases, between males and females, and all cases started during the day.
Al-Suwainah indicated that the authority seeks to geographically expand the services of the air ambulance project to include all regions of the Kingdom during the coming period, as air ambulances work, in cooperation and coordination with the relevant authorities, indicating that the authority's fleet of aircraft operating in air ambulances will witness a continuous increase so that the authority can deliver its services. to different places and environments.
.