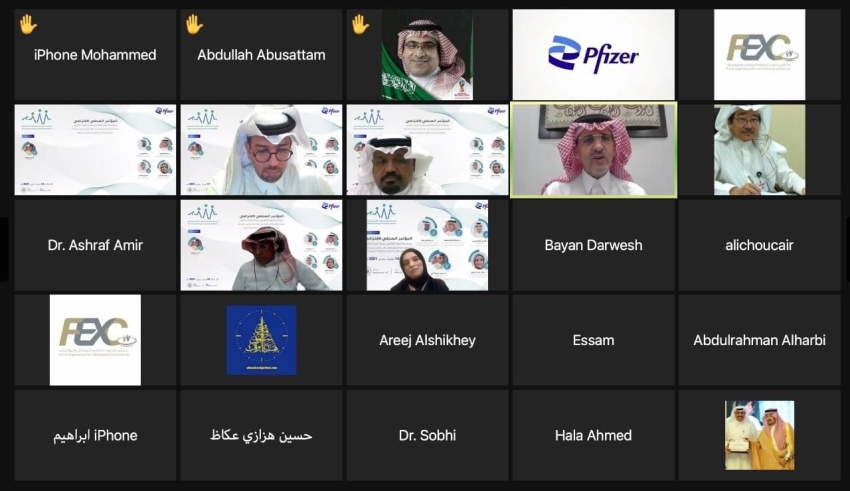 The Saudi Society of Family and Community Medicine, in cooperation with Saudi Pfizer, held a virtual press conference devoted to the topic of immune infections, with a special focus on atopic dermatitis. The launch of this symposium coincides with the International Day of Atopic Dermatitis, and falls under the ongoing activities of the Saudi Society for Family and Community Medicine to raise awareness of the various types of diseases prevalent in society. Scientific and journalistic that the association spares no effort in organizing and supporting all scientific programs that aim to educate doctors and health practitioners or to spread health awareness to educate and educate the community and contribute to the prevention of diseases for individuals and families.
The symposium witnessed the attendance of a group of doctors and consultants specialized in family and community medicine, dermatology and surgery from some medical centers and hospitals inside the Kingdom.
During his speech at the symposium, Dr. Abdullah Abu Alit, a consultant dermatologist and laser surgery, head of the dermatology department at King Fahd Armed Forces Hospital in the Southern Region, and a member of the Board of Directors of the Saudi Society of Dermatology and Laser Surgery, noted the importance of raising awareness of the risks of atopic dermatitis, as it falls under common and immunological diseases. More among children, stating that this disease may affect adults as well, and expressed confidence that the conference would contribute to improving the medical care provided to patients with atopic dermatitis.
Regarding the factors that cause atopic dermatitis, Dr. Maha Badir Al-Badawi, a consultant in dermatology and cosmetology at Al-Hada Military Hospital and a member of the European and American Society of Dermatology, replied that they are not known precisely, noting that most patients with atopic dermatitis suffer from a more sensitive immune system than Normal position, excessively responsive to external stimuli and various factors that cause hypersensitivity.
As for the Executive Director of the Medical Department of Pfizer International in Saudi Arabia, Dr. Hani Al-Hashemi spoke about the relationship between atopic dermatitis and the psychological state of the patient and his family and his ability to integrate into society, saying, "Patients are the focus of our work at Pfizer, as our work aims to help patients For example, patients with chronic inflammatory conditions such as atopic dermatitis.Today on September 14, we are all standing up to raise awareness about some of the challenges that atopic dermatitis patients face that can negatively affect their daily lives and their emotional health, with the hope Helping them feel confident discussing the effects of this disease with their doctors."