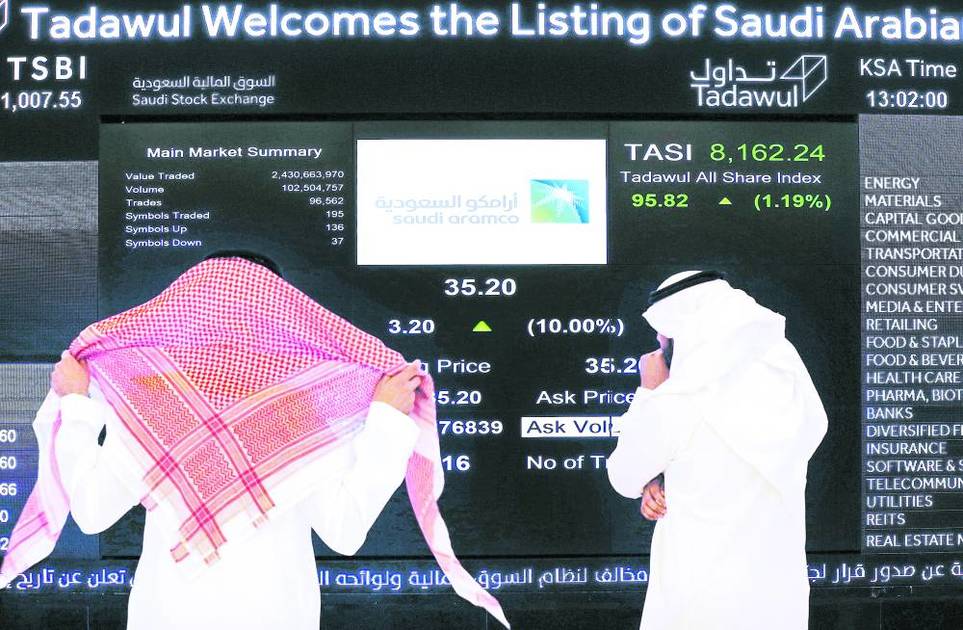 Gulf stock markets closed higher on Tuesday, supported by expectations of an economic recovery in China, the world's second-largest economy, and a slowdown by the US Federal Reserve in raising interest rates.
Most economists polled by Reuters said the Fed would end its tightening cycle after raising interest rates by 25 basis points at each of its next two meetings and would likely leave interest rates steady for at least the rest of the year.
The International Energy Agency said, on Wednesday, that the lifting of restrictions related to Covid-19 in China will lead to a rise in global oil demand to record levels this year.
The main index of the Saudi market rose 0.3 percent, supported by gains in the raw materials, energy and financial sectors.
Oil giant Aramco rose 0.6 percent and Al-Rajhi Bank, the world's largest Islamic bank by market value, rose 0.8 percent.
The Abu Dhabi index rose 0.6 percent, ending its four consecutive session losses. First Abu Dhabi Bank rose 2.7 percent, and Aldar Properties rose 1.3 percent.
Dubai's main index rose 0.4 percent, supported by gains in the financial and real estate sectors. Dubai Islamic Bank rose 2.2 percent, Mashreq Bank rose 3.1 percent, and Emaar Properties rose 0.3 percent.
The Qatari index rose 0.7 percent, continuing its rise since Thursday, with shares of most listed companies rising. Qatar Islamic Bank extended its gains, up 2.3 percent, and Qatar International Islamic Bank rose 1.7 percent.
And the Commercial Bank of Qatar announced on Tuesday that it had achieved a net profit of 2.811 billion riyals ($772.25 million) in 2022, compared to 2.304 billion riyals a year earlier, an increase of 22 percent. The bank said in a statement to the Qatar Stock Exchange that it proposed distributing 0.25 riyals per share as dividends to shareholders.
Outside the Gulf region, the blue-chip index rose 1.6 percent, continuing its rise since Wednesday.
.