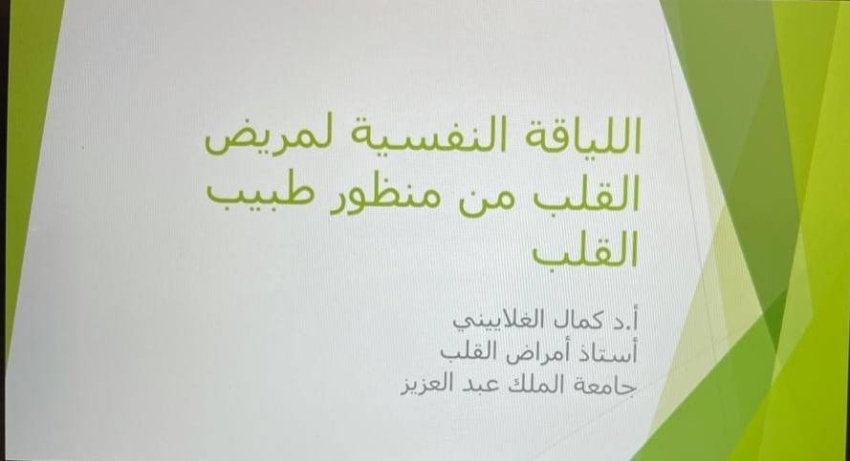 Dr. Kamal Al-Ghalayini, Professor and Consultant of Cardiology at King Abdulaziz University, pointed out that there is a close relationship between heart disease and mental health, so that the meaning of "heart broken" seems to be a scientific concept as well as a rhetorical expression without a doubt.
This came during a virtual press conference organized by Pfizer Saudi Arabia on the occasion of World Heart Disease Day under the slogan "Mental Fitness and Your Heart's Health", to educate the community about ways to prevent heart disease as well as take care of the psychological aspect.
During the symposium, the latest developments related to heart disease and mental health were discussed, in order to contribute to providing better levels of medical care and treatment for this type of disease.
Dr. Al-Ghalayini noted the progress of diagnostic methods and the availability of many treatments in recent decades, which opens new horizons and instills hope and optimism in the hearts of heart patients and their families.
During the symposium, he spoke about "Psychological Fitness for Heart Patients from the Perspective of a Cardiologist".
As for Dr. Fakhr bint Zuhair Al-Ayoubi, Head of the Clinical Pharmacology Group for Cardiac Medicines at the Saudi Heart Association, King Saud University in Riyadh, she addressed in her speech the topic of "The Role of the Clinical Pharmacist Specialist in Activating the Drug Security for Heart Patients and Its Impact on their Psychological Fitness", and pointed out the importance of the pharmacist's role The clinical specialist as the main link between the members of the medical team treating heart diseases and between this team and the patient and his family as well, and the importance of the pharmacist's role in raising awareness and educating the patient and his awareness of the nature of the disease and the integrated treatment plan.
While Dr. Walid Al-Ghamdi, Assistant Professor of Psychiatry, specialized in psychiatry and Vice Dean of the Faculty of Medicine, King Abdulaziz University in Rabigh, addressed in his speech the topic of "Psychological fitness for heart patients from the perspective of a psychiatrist." In his speech, he referred to the importance of the idea of ​​an integrated treatment team for cardiology. The psychiatrist is an important part of this team, because some mental illnesses have a negative impact on heart health, and a number of acute or chronic heart diseases may lead to mental illnesses or disorders.
As for Dr. Islam Al-Ayari, Medical Director of Genetic and Rare Diseases at Pfizer Saudi Arabia, he pointed out on World Heart Day the importance of spreading awareness of rare heart diseases, especially in light of the advancement of diagnostics and treatments for this category of diseases.