Ahmed Al-Manzari, WHO Regional Director for Eastern Mediterranean Countries, confirmed that 2021 was a difficult year for most of us, despite the amazing progress made in developing effective tools to prevent and control the pandemic such as vaccines and treatments, but we are still seeing increasing numbers of infected people who die. Many of them are due to this disease. As of January 8, the Eastern Mediterranean Region reported about 17.5 million confirmed cases of Covid-19 disease, and more than 317,000 deaths, and during the first week of 2022, the total number of new cases reported reached 206,980 cases. Confirmed COVID-19 cases and 1,053 deaths, indicating a massive 89% increase in cases compared to the previous week, despite a 13% drop in deaths.
He said in the press conference held this morning at the World Health Organization for the Eastern Mediterranean countries with the participation of other officials that the highly contagious mutant Omicron has caused this alarming increase in cases, and so far 15 out of 22 countries in the Region have officially informed about the Omicron, In light of the increasing number of infected, we have to prepare for the worst-case scenario, and it appears that Omicron causes less severe disease compared to the Delta mutant, especially in those who have received vaccines, but this certainly does not mean that we underestimate it, because it still leads to hospitalization and death, and it is expected. For more countries in the Region to report the emergence of the mutant omicron, we must take this very seriously.
And he continued, as we are on the verge of the third year of the pandemic, we are still fighting a full-fledged battle against this virus, despite new tools such as vaccines and treatments, but the inequity in distributing vaccines, reluctance to take them and low levels of commitment to public health and social measures have given the virus an opportunity to progress. Once again, in order to overcome it we must continue to expand the range of procedures that we know are effective regardless of the mutation.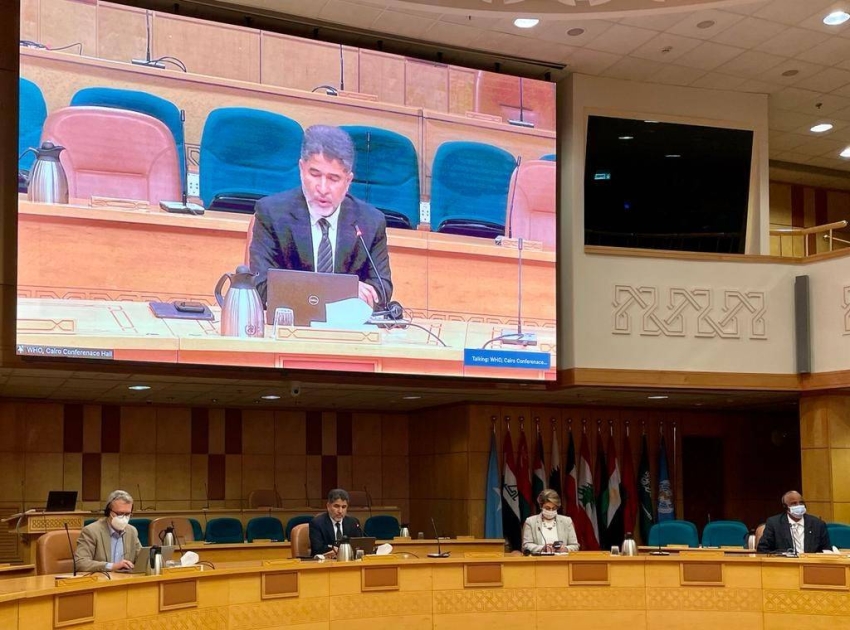 Al-Mandhari added in the press conference that it is still a major priority to support health workers in the front lines and provide them with equipment, as they have been exhausted by work over the past two years, but their role is still very important, and they deserve all our help and respect, and we have not yet seen exposure to Health facilities in our region are overstretched, as we have seen in other regions, but we must work hard to improve hospitals' preparedness and capacity to deal with the increasing number of cases, and with the increasing number of infected, we recommend countries to increase the availability of options for free and easy rapid diagnostic tests, which They provide high levels of accuracy, with the added advantage of being less expensive and less time-consuming than PCR tests, such as the antigen test.

And he added: To stop the spread of the virus and avoid the emergence of new mutations, we still need to achieve herd immunity by reaching high levels of vaccination. Unfortunately, inequity in the distribution of vaccines and inequity in health in general were the biggest failures of the past year. We have contributed to creating the conditions for the emergence of new mutagens, partly due to the low rates of vaccination. In our region, six countries have so far vaccinated less than 10% of their population, namely Afghanistan, Djibouti, Somalia, Sudan, Syria and Yemen, and these countries have enough vaccines to protect what It reaches 40% of its population, so the problem now is not so much about providing vaccines as it is about many other challenges. These challenges include: lack of political commitment at the highest levels, insecurity, a weak health system, logistical challenges, and limited interaction with local communities to enable them to obtain a vaccine.
The regional director noted that despite the emergence of new mutations, vaccines are still an effective and vital tool in preventing severe morbidity and death, including what is caused by Omicron, and we have seen that some countries have begun to introduce booster doses, and our position on this is clear, which is that we are not Against booster doses, but against inequity, and our goal is to protect the vulnerable. People most at risk of severe disease must be vaccinated with full doses before giving booster doses to those who are less likely to get sick. There is no doubt that giving booster doses to those at high risk should be considered, as this can It saves more lives than giving initial doses to people at low risk.
Al-Mandhari stressed that with the reopening of schools this month, measures must be implemented to mitigate risks, such as vaccinating all teachers who are eligible to be vaccinated and children at high risk, and strictly enforcing public health and social measures in schools, and we know that symptoms of the disease in children and adolescents often They are lighter than adults, so their vaccination is less urgent than vaccination of the elderly, the chronically ill, and health workers, unless these children and adolescents are from a group at increased risk of severe symptoms of COVID-19.
Al-Mandhari concluded by saying: The critical stage of the pandemic, which is characterized by the tragedies of deaths and hospitalizations, could end in 2022, and during the coming months we will work on developing a strategy for coexistence with Covid-19 in our region, and this will not eliminate the virus, but we can control it. It must be sufficient to live with it as we do with the seasonal influenza virus and other common viruses, which cause
.