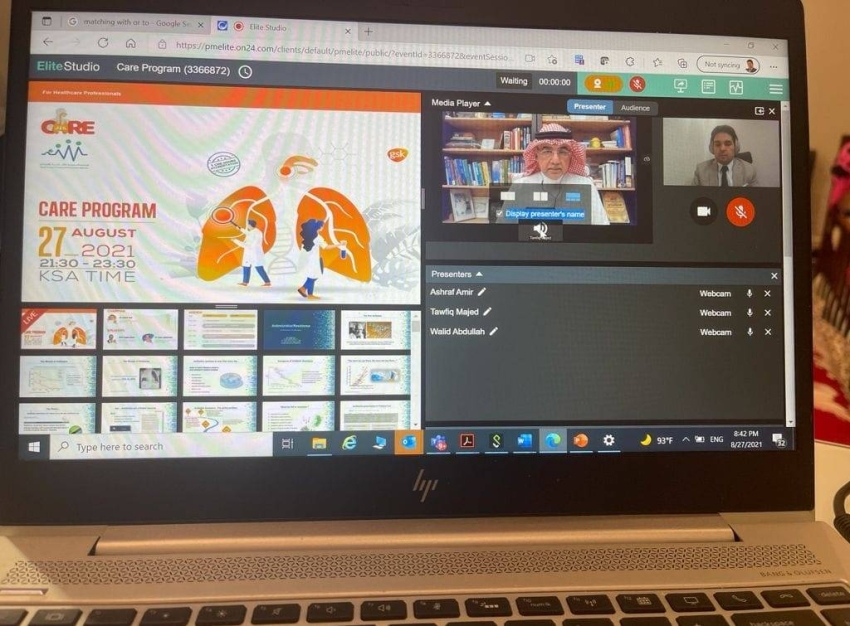 The care program established by the Saudi Society for Family and Community Medicine, achieved great success in terms of interaction and unprecedented attendance of doctors and health practitioners from the Kingdom of Saudi Arabia and abroad, which exceeded 8,500 doctors and health practitioners, via the electronic platform by default. The Saudi Society of Family and Community Medicine, Dr. Ashraf Amir, and the consultant of chest diseases and vascular lung diseases, Dr. Magdy Idris, and family medicine consultant Dr. Assem Al-Shanbari, who presented through the program 3 valuable lectures about antibiotics and the importance of their legalization and the most important pathological conditions that require describing these Medicines for patients, and the program witnessed scientific and medical discussions between the speakers and the chair of the session that contributed to enriching the scientific program arena and increased the interaction of the attendees from doctors and specialists who asked many questions about this vital and important topic and received answers to them from the professors speaking in this program. Their direct interventions expressed their admiration for the topics presented and useful for the organizers A program that was addressed by the speakers during their lectures and discussions, while the professors who spoke for their part praised the accuracy of the organization and expressed their fascination with the large number of attendees.
For his part, the head of the scientific program and the vice-president of the association, Dr. Ashraf Amir, confirmed that the Society of Family and Community Medicine always seeks to provide such medical programs aimed at preserving the health and safety of the family and the healthy community, including patients, by introducing doctors and health practitioners to scientific and medical developments in various fields, which It leads to upgrading the role of the doctor and health practitioner and is reflected in the development of the level of medical and treatment services provided by health facilities in the Kingdom to all beneficiaries of its services, patients and auditors alike.
Dr. Ashraf extended his thanks and appreciation to Glasgow Medical for its continuous support and permanent cooperation with the Society to establish such medical programs and events beneficial to the individual and society, and he thanked the Forum of Expertise for organizing exhibitions and conferences as an exclusive partner of the Society of Family and Community Medicine branch in Jeddah for their continuous success in organizing medical conferences and various events, He demonstrated what the program witnessed this evening of unprecedented medical attendance, and said that the registration of more than 18,000 people and the attendance of more than 8,000 doctors and health practitioners in a scientific program for a period of no more than two hours did not happen even in international conferences, so what about local conferences? This confirms the efforts made by the forum and its employees.